Here are the release times for students tomorrow, Thursday, June 17. RES students are being release at 11:20 a.m. RHS students will have a staggered release and check-outs may go faster than listed. Juniors: 10:30 a.m. Sophomores: 10:45 a.m. Freshman: 11 a.m. Eighth: 11:15 a.m. Seventh: 11:30 a.m. There is a junior high assembly at 10:20 a.m. RHS lunches will be provided to students once they have checked out.

Hello Riddle Irish! All Junior High and High School students need to turn in their Chromebooks by tomorrow at 11:30am. GO IRISH!

Hello Riddle Irish! On Tuesday 6/15 students will be doing Arena Scheduling in their check-in class at 8am so you can choose your classes for next year. On Wednesday 6/16 all Chromebooks in-person and Distance Learners will be checked-in starting at Noon. GO IRISH!

Congratulations Seniors! We will miss you. Remember, if you ever need our help or have any questions, we will be here for you. Once you are part of The Order of the Riddle Irish, you will always have family here.

Hello Riddle Seniors! Reminder, there will be senior citizen and handicapped parking in front of the baseball field. Thank you. Go Irish!

Hello Riddle Jr./Sr. High School students! All Chromebooks need to be checked-in by Wednesday June 16th between the hours of 8am-3:30pm. This goes for ALL students except seniors. Thank you and GO IRISH!

Hello Riddle Walking Seniors! Change! Report to the office at 10am and remember to wear something nice. Also, remember to bring your Chromebook to check in! Thank you Seniors!


Hello Riddle Irish. Those students on quarantine are eligible to be back at school tomorrow 6/9 with the exception of the basketball team that can return on 6/10. GO IRISH!

The team picture for the Junior High Boys Basketball Team is Wednesday, June 9, at 2:15 p.m. in the high school gym. Each athlete should bring his CLEAN uniform to change into. However, make certain to have an extra change of clothes. Once pictures are completed, uniforms are being turned in to Coach Klaessy.

Just a reminder that cheer tryouts for Riddle Jr./Sr. High School begins today, Tuesday, and runs through Thursday from 3:30 to 5:30 p.m. in the RES gym. If you have any questions, reach out to Coach Mercedes at
mmcleod@riddle.k12.or.us
or call 541-874-2226. Tryouts are for all students who will be in 7th through 12th grade for the 2021-2022 school year.

Hello Graduating Seniors who are walking. We will be meeting in the gym tomorrow at 10am. The Elementary Parade is a go. See you then. GO IRISH!

Hello Riddle Irish. For those 7th and 8th graders who were quarantined; you are able to return tomorrow June 8th! We cannot wait to see you. GO IRISH!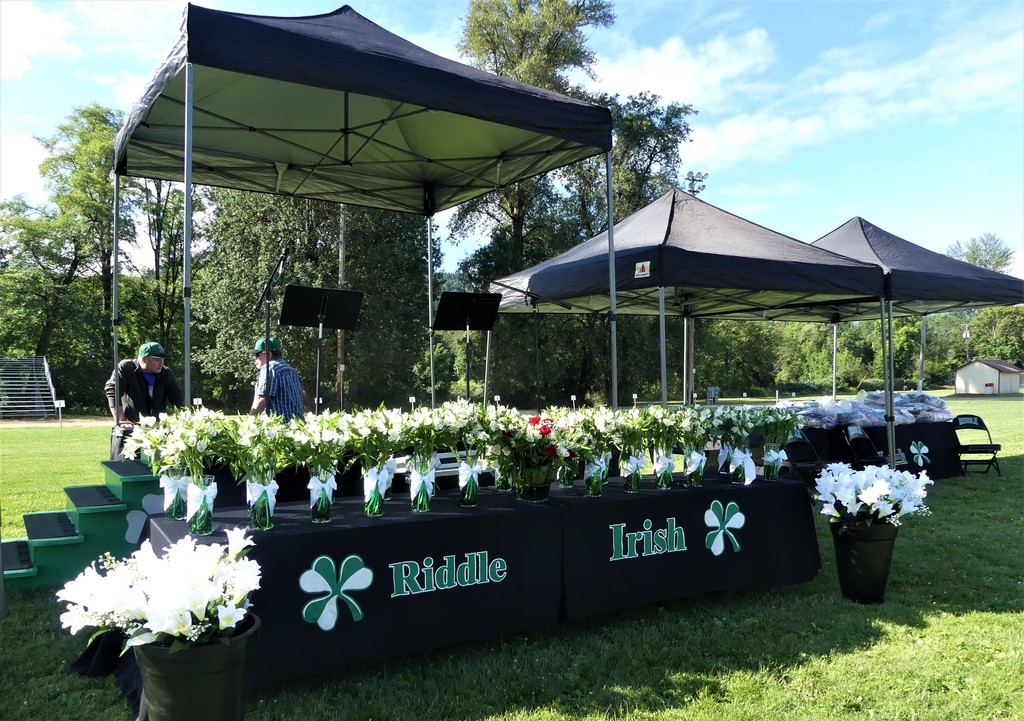 Hello Riddle Irish Seniors and Parents! We want to congratulate all Graduating Seniors. We have sent an email to all 12th grade graduating seniors with all the information needed for graduation. We will be posting all graduation materials on our social media sites. GO IRISH!

Hello. DHPN should have called all quarantined students and their parents; if not, here is the update: The basketball team and 11th grade can return on June 10, Cohort 7B on June 8, 9th grade cohort on June 9. Those who tested positive can return 2 days earlier than their cohort
Hello Riddle Seniors!!! Due to the recent outbreak of Covid, we will be moving Senior Night from June 3rd to one of these dates: 6/9, 6/10, or 6/11. We are awaiting DPHN to give a return date to school for those seniors affected by the quarantine is the reason for change.

Tonight's drama performance is being postponed. The rescheduled performance will be live-streamed on our High School Facebook page. When the new date has been set, we'll share that information with our Riddle families and community.

The following cohorts will be completing their school work tomorrow, Friday, May 28, via Comprehensive Distant Learning (Edgenuity): 11th grade, 9th grade, and 7B. We'll provide an update tomorrow with more information.

Recently, we were notified that a person in Riddle Jr./Sr. High School has been diagnosed with COVID-19. As members of the school community, we understand that this might raise concerns alongside a caring response. We are working closely with DPHN and our district nurse to respond to this news and protect the health of our community by temporarily closing the 9th grade and 7B cohorts. Each situation calls for different protocols. In this case, we are following these steps: 1. Stay in contact with DPHN and our district nurse. 2. Call parents and quarantine students in the 9th grade and 7B cohorts for those students attending from May 24th to May 26th. 3. Notify staff. 4. Cleaning and disinfecting of the exposed locations have been completed. 5. As the Coronavirus situation in our country is developing, we urge you to take necessary precautions to limit Coronavirus spread. 6. All individuals who need to quarantine have been notified. As soon as we know more from DPHN, we will make a further announcement and notify those students who have been quarantined and their parents. Sincerely, William Starkweather Principal